RCEP has been in effect for half a year, and enterprises enjoy more benefits
In the first half of the year, Shandong issued RCEP certificate, ranking first in China
2022-07-09 source: Volkswagen Daily Edition 01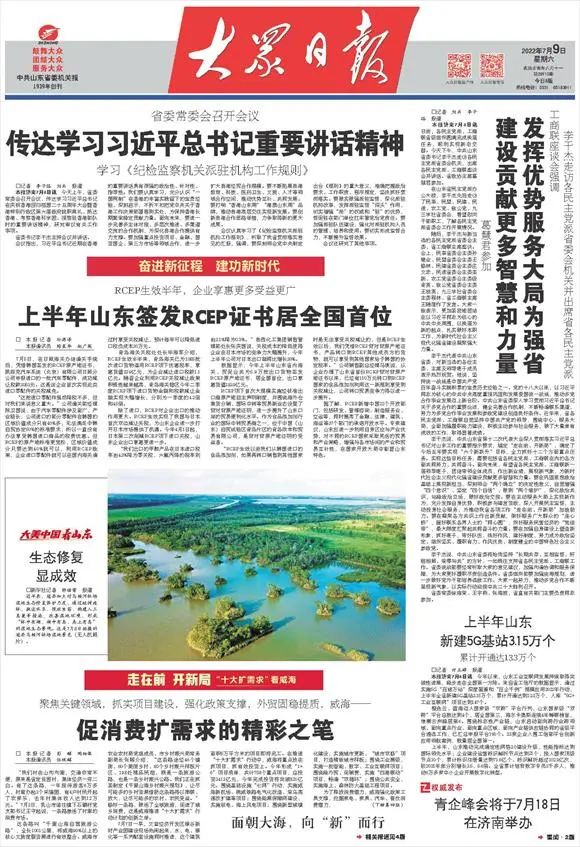 On July 5, after Rizhao customs completed the customs clearance procedures, with the RCEP certificate of origin issued by South Korea, a batch of auto parts declared by Rizhao Branch of kefico Automotive Systems (Beijing) Co., Ltd. were successfully reduced by 3053 yuan. This is the first time that the enterprise has realized the tariff reduction of such imported parts.
"Although this batch of imported spare parts does not have much tax reduction, it is of great significance to us." Chen Weiguo, manager of the customs clearance department of the company, said that due to the wide range of auto parts and long industrial chain, the regional value component of some parts and components imported by the company in South Korea is only more than 40%, which cannot meet the 50% standard requirements of the China South Korea free trade agreement. Therefore, it has been unable to enjoy the tax preference of imported goods from South Korea. However, the origin standard of RCEP is more relaxed. As long as the regional value content reaches 40%, enterprises can enjoy tariff concession when they import spare parts through the domestic customs by using RCEP policy. It is estimated that the import tax cost can be reduced by 300000 yuan per year.
Bi Haijun, director of the Customs Department of Qingdao Customs, introduced that since RCEP came into effect half a year ago, Qingdao Customs has applied the preferential tax rate under RCEP to 1085 batches of imported goods, with a preferential value of 2.29 billion yuan and a reduced import tax of 110 million yuan for enterprises. With the increasing enthusiasm of enterprises to use RCEP tariff reduction policy, the amount of imported goods and tax reduction under RCEP in Qingdao Customs area in the second quarter of this year increased significantly, 4.2 times and 4.5 times respectively that in the first quarter.
In addition to import, RCEP plays a greater role in promoting the export of enterprises. RCEP came into effect, realizing the first bilateral tariff reduction between China and Japan, providing opportunities for Shandong enterprises to further open the Japanese market. Since April 1 this year, Japan has reduced the import tariff under RCEP for the second time, and the export benefits of Shandong enterprises have been further improved.
"The import tariff rate of our exported formic acid products in Japan was reduced from 4.3% to zero tariff, and the tariff rate of hexafluoropropylene was reduced from 3.1% to 0.3%." Zhang Qingguo, director of sales management department of Luxi Chemical Group, said that the reduction of tariff cost has greatly improved the competitiveness of enterprises in the Japanese market. In the first half of this year, the company's exports to Japan increased by 30% year on year.
According to the data, in the first half of this year, Shandong customs and CCPIT issued RCEP certificates of origin for 59000 batches of export goods, ranking the first in the country. The value of export preferential goods was 18.39 billion yuan.
Under RCEP, the system of independent declaration of origin of approved exporters was implemented on a large scale for the first time, and the back-to-back certificate of origin was set up around new trade formats such as overseas warehouse collection and distribution and international transit, which further improved the trade facilitation level of Shandong port. As one of the international transit traders in the food additive industry, Qingdao xinfenghe Trade Co., Ltd., located in Qingdao area of China (Shandong) pilot Free Trade Zone, is the beneficiary of back-to-back certificate of origin.
"Before the RCEP came into effect, the food additives we imported from South Korea could not enjoy tariff concessions if they were re exported to other countries. However, after the RCEP came into effect, we can enjoy the agreed tax rate given to South Korea by other countries by virtue of the back-to-back certificate of origin of RCEP." Ma Ying, the company's deputy general manager of sales, said that since the enterprise handled the first RCEP back-to-back certificate of origin in Shandong Province, 1.1 million yuan of food additives that have been re exported to RCEP countries have enjoyed tariff concessions by using this new rule, and the company's re export trade competitiveness has been further improved.
It is understood that RCEP has added 22 open sectors in China, including R & D, management consulting, manufacturing services, air transport, etc., and has also improved the commitment and opening level of 37 sectors including finance, law, construction and maritime transport. Experts suggest that Shandong should further make use of its own location and industrial advantages, adopt flexible trade and industrial strategies for different RCEP countries, enhance industrial and trade complementarity with various markets, and highlight Shandong's characteristics in the overall situation of national opening up.